Best Retail Conferences you have to attend in 2023
Conferences and summits are a great way to stay abreast of the latest updates in the e-commerce industry. It's important these days as technology speeds up and consumer expectations increase each day. Even now, when the most difficult years of the Covid-19 pandemic seem to be overcome, many conferences still happen in the digital format. That's why you have to keep an eye both on stationary and online events.
If you're looking to discover the latest news, strategies, and tools, you are in a good place! In this article, we will go through some of the most interesting e-commerce and retail conferences of 2023. Keep on reading!
Why is it so important to even attend conferences?
First of all, conferences are a great source of knowledge. It's a great opportunity to learn from the best experts in various fields. Listening to various lectures and training sessions with true professionals will expand your expertise in the field.
Secondly, you can learn how others manage their business and what practices work best for them. You can basically learn from somebody's else mistakes.
Last but definitely not least – you can meet and network with new people from the industry. Isn't it a great alternative to LinkedIn pings? Whether is it online or offline, meeting new people is not only exciting but can also open up many possibilities.
What to Keep in Mind before and during a meeting
And… one more thing before we jump into the actual "Events" section. Take a quick look at things you may want to consider before and during a conference.
Before the meeting, try joining some Event-oriented LinkedIn or Facebook groups. That way you can get in touch with people even before meeting them during a conference
Don't be shy. Introduce yourself to others. Remember – everyone gets anxious – think about what you can miss out on if you don't talk to anyone
Listen to people around you and try to find a conversation you can join and add valuable input
Add people on LinkedIn and send a quick message if you get a business card from them
Ask speakers relevant questions – it may spark great discussion on the panel or between listeners
It's easy to say, but it's good to have these rules in mind as it helps bring them to life. Try it!
What Are The Best Retail Conferences in 2023?
Let's dive into the must-attend Retail Conferences that will help you grow your business and your network. Keep reading!
We'll group them into paid events and the ones that you don't have to spend anything for.
Paid Events
Location: Berlin, Germany (STATION Berlin, Luckenwalder Str. 4-6)
Date: 02.23.2023
Event type: Physical
Price: 2023 fees not yet available
Berlin is the European heart of start-ups and growing businesses. That's a great place to find inspiration, connect with people and learn about the latest trends, also in the e-commerce industry.
E-Commerce Berlin, one of the biggest e-commerce events in Europe, is a must-attend for everyone looking for new ideas and the latest retail novelties. The main focus of the exhibition is the B2B expo & Conference for e-commerce retailers. This yearly event hosts 200 exhibitors, 50 speakers, and networking among more than 8000 participants.
E-commerce Berlin hosts 250 exhibitors, 50 speakers and more than 10000 visitors. Some of the biggest names at the event are Allegro, BigCommerce, BuyBay and Shopware.

Location: Berlin, Germany (Estrel Hotel)
Date: 20-21.06.2023
Event type: Physical
Price: 799 EUR
K5 Conference connects more than 5000 participants, 250 exhibitors, and 150 speakers to Berlin to discuss the future of retail each year. K5 is an outstanding place, especially for retailers who want to expand their reach to the german market. The event gives a deep insight into current customers' trends, technologies and market developments accordingly to various regions.
The ticket allows you to listen to all the lectures, attend networking parties as well as Master Course, and have access to food and beverages.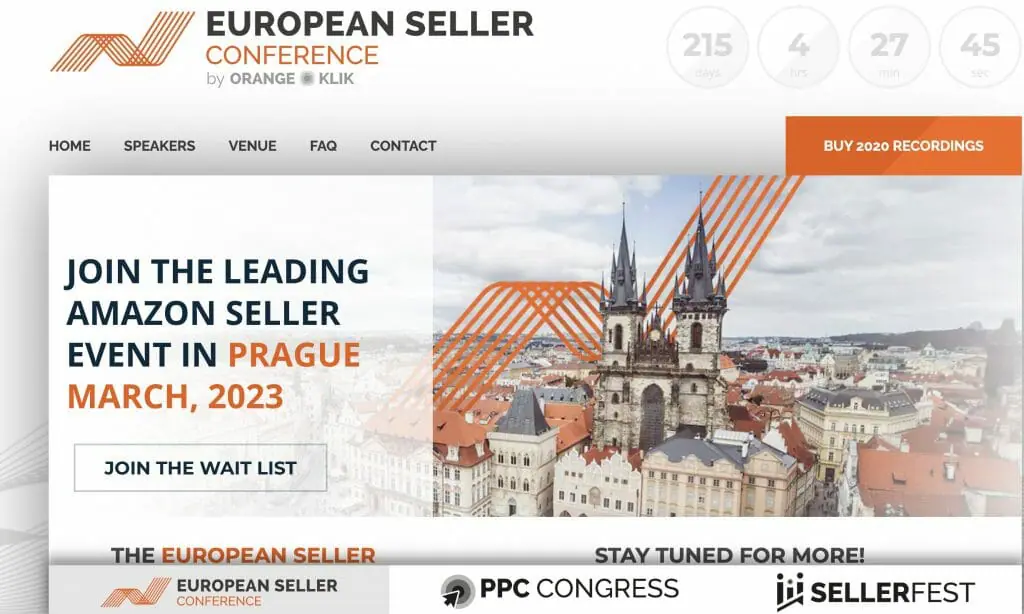 Location: Prague, Czech Republic (Grandior Hotel)
Date: Mar 2023 (exact date TBD)
Event type: Physical
Price: TBA
The European Seller Conference is a two-day event created mainly for Amazon retailers seeking new marketing and technology opportunities. Whether you're an Amazon seller, consultant or service provider – this event is for you.
ESC hosts thousands of attendees who are interested in first-hand info on how to operate effectively on Amazon. It includes trends and technologies, and best customer practices.
The European Seller Conference consists of presentations, private workshops, and a lot of time for networking and discussions.

Date: 25–27.04.2023
Location: Hotel Arts, Barcelona, Spain
Event type: Physical
Price: Retailers – £2495 + VAT. Non-Retailers – £7000 + VAT
World Retail Congress brings together more than 120 speakers including some of the brightest minds in the retail field. Speakers from around the globe provide all the relevant and up-to-date info on how to overcome the difficulties such as the Covid pandemic, supply issues, and how to effectively stay ahead of your competition. The congress provides an unrivalled high-level forum and discussion panel for retailers to learn, share knowledge, network, and create the future of retail.
Date: 09-10.02.2023
Location: Tokyo Big Sight Exhibition Center, Tokyo, Japan
Event type: Physical
Price: Available on registration
The event is one of the first-ever B2B trade expos with e-commerce solutions as a center of discussion.
E-Commerce Fair Tokyo consists of seminars, network spaces, new tech discussions, and many more. Businesses included at the event include fields such as marketing, logistics, customer service, omnichannel retailing, and more.
Location: International Convention Centre, Cape Town, South Africa
Date: 18-19.04.2023
Price: R5000 to R9000 – depends on when you register. Discounts for teams.
Event type: Physical
E-Commerce Africa over the years has become one of the most important retail-oriented events in Africa. with over 60 speakers, 2500 delegates, and 5 tracks, the expo provides all the info needed in order to stay up-to-date with the latest trends.
Not only does it enable visitors to make clutch networking moves, but it also allows exploring the African market and lay the groundwork there.
The event covers all the relevant fields, such as retail and e-commerce, fintech and payments, cybersecurity, and the future of marketing and logistics.
Free Events
Location: McCormick Place, Chicago, IL
Date: 13-15.06.2023
Event type: Physical
Price: Expo Hall Pass – free (optional workshops are $349 each) to $1595. All Access Pass – $495 to $3095 depending on ticket type and duration.
RICE 2023 is a great place for e-commerce retailers who seek to connect with the best experts in the industry. The expo consists of three micro-conferences that focus mainly on practical knowledge and strategies for various job roles and teams.
The event combines everything tech-oriented, but it also is a perfect match for those who want to get to know the latest, innovative trends in marketing. RICE 2023 also provides a wide variety of networking opportunities and interactive, engaging experiences.
Location: Hotel Palace, Berlin, Germany
Date: 14-15.03.2023
Event type: Physical
Price: Free
Europe's most successful leaders and retailers in one place – Hotel Palace in Berlin. Another Germany-based Expo with many experts in the D2C and e-commerce fields. Want to know how to achieve the best ROI, keep up with the latest trends and stay ahead of your competition? ETail is a must-have for anyone who wants to get in touch with prestigious speakers, expand their network and learn from the best.
Location: Cologne, Germany
Date: 20-21.09.2023
Event type: Physical
Price: Free
DMEXCO is one of the best events for those who look for solutions in digital marketing & tech. The conference in 2022 was an excellent success for DMEXCO as among all the partners, there were brands like Apple, IBM, Adobe, and Microsoft who were a part of the expo.
The event hosts more than 770 speakers and more than 20.000 visitors.
Location: Jacob K. Javits Convention Center, New York City, New York
Date: 15-17.01.2023
Event type: Physical
Price: Available on registration
Retail's Big Show is one of the biggest retail-oriented events. It's where the whole industry learns what's trending, what's next, and what to keep an eye on.
The event duration is 3 days, in which there are over 175 sessions, over 350 speakers, and over 800 exhibitors. The 2020 NRF was an excellent success with over 38.000 visitors and 16.000 retailers on the 3-day event.
NRF has it all – ready-to-use insights and strategies for startups, small retailers, distributors, and manufacturers won't leave anyone disappointed.
Summary
As you can see, there is a lot to do in 2023. If you seek innovation, fresh ideas, and new networking opportunities, you should definitely check the above-mentioned events and potentially book your spot at some of them. Whether it's a free or paid conference, it's a great investment of your time and/or money!
So, where's the next trip to? 🙂