Want A Thriving Business? Focus On BEST AMAZON PRICE TRACKING SOFTWARE!
If we were to name one of the biggest online retailers and web service providers, it would be Amazon.
The company based in Seattle provides a wide range of products, starting with industrial items, health products and grocery, and ending with toys, tools and other similar products. Amazon distributes these items and provides all the support, shipping and home delivery for third-party companies using the platform.
Amazon also manufactures and advertises electric devices such as Alexa, Kindle e-readers, fire TVs, fire tablets and Smart Home security products. There is also room for artists such as authors, filmmakers, producers and musicians that can publish and sell their services on Amazon. If you are a retailer operating on Amazon, you'll definitely need Amazon Price Tracking Tool too.
How to price a Product on Amazon
The main goal of every seller is to make as many sales as possible. Many relevant variables affect sales volume. It's in the hands of retailers to differentiate and optimize all of them to grow their business, satisfy their clients and reach new leads.
Having an adequate pricing strategy on platforms such as Amazon is one of the key factors that directly affect retailers' revenues. Priced too high, the product may not attract clients and force them to look after cheaper alternatives. Priced too low may start a war between competitors and that's almost always a lose-lose situation.
That's where price tracking software comes to the rescue. It allows retailers to accurately track competition prices, monitor the market and set the pricing strategy adequate to their assortment and product portfolio.
1. Differentiate your product
There are plenty of different versions of every possible product. The thing is to differentiate your product. To do it, you need to show your clients that your assortment is worth more than the competitor's substitute.
Can you add more value to your product? Can you advertise it better? Or use better materials?
You need to ask yourself these questions to find how can your products stand out from the rest of the market.
There is no chance of you getting new clients selling the same items as your competition at a higher price. That's why you need to put in the work to come out with a new product or a much better version of a product that already is on the market.
2. Understand your profit margin
There's nothing better for a seller than watching your products go "sold out" and clients leave great product reviews. The highest possible revenue is a true goal of every retailer, but there is one key thing no one wants to miss out on – it's the profit margin.
Profit margin is the percentage of income that's left for you after all your expenses. Using Amazon means you have to include Amazon referral fees, PPC costs and FBA fees. Generally, the profit margin is calculated with a simple formula:
Profit Margin = ((Sales – Total Expenses) ÷ Revenue) x 100
For example, if the price of your product is 50$, your profit (after subtracting all the fees) is 15$, which means that your profit margin is 0,3 (15$ ÷ 50$). After multiplying it by 100 we get the final answer – your profit margin is 30%.
When selling on Amazon, it's important for retailers to aim for a profit margin between 20% and 30%. Almost 70% of Amazon retailers have profit margins over 10%, while the rest operates on profit margin above 20%. Let's be honest – the higher the profit margin you can settle at and successfully remain at it, the better.
Identifying your minimum and maximum price
Basically, if you want to succeed on Amazon, you have to both stay competitive and operate on a healthy, maintainable profit margin. That's why you should first identify your pricing range.
To do it, it's best if you use Amazon Revenue Calculator. You simply put all the details of your product (weight, size measurements) as it can affect Amazon fees. With the tool, you can easily determine your breakeven point. With that, you know at which point you start to make a profit and what minimum price can you set.
3. Price Competitively
There's nothing better for you as a retailer than offering high-quality products at a reasonable price. It builds your brand's good name and customers' loyalty. If you want to create a legitimate, trustworthy brand, you need to focus on the value behind your products rather than just selling as much as you can.
So, what exactly is "competitive pricing"?
It's the process of setting your products' prices' based on competitor pricing in your market, rather than setting them contingent on your incurred costs.
If your product has no reviews yet, set the price slightly lower than the average prices of competitors' substitutes. For example, if median prices for similar products range from 64.99$ to 99$, try pricing your goods somewhere between 62.99$ to 64.90$.
That's how you show off your products if they are new on the market and have no recognition. "Slightly lower price" strategy is great for another reason – it won't start a price war between you and your competitors.
What else can you do to price competitively?
There's one good answer to it – use price tracking software to gather all the data about your competition's prices and assortment changes. Really, if you decide to do it manually you will lose all your time on it, while a price monitoring tool does all the work for you in the nick of time.
4. Price products above Amazon's free shipping minimum
There are two types of customers on Amazon:
Amazon Prime members
Non-prime members
Amazon Prime members don't have to pay for the shipment of purchased products whilst non-prime users have to either pay for the delivery or cross the threshold of 25$ (in the U.S.) or 40 PLN (in Poland).
That's why you should price your products above that point to experience a much higher conversion rate among non-Prime users.
5. A/B test different prices
The best method to determine the best price for a given product is to run a split test.
There's nothing simpler and more effective at the same time than the A/B test. You simply list the product at two different prices for a set amount of time and compare its performance. This way you base your decisions on data rather than guesswork. This method can work magic for example when you want to check if the product maintains its performance at a higher price.
Let's say you want to check if a 44.99$ product still performs great at 51.99$. Set an amount of time that both offers will be listed (1-4 weeks). After that time, compare which period of time gives you the highest sales. If it's the higher price – it's your lucky day!
6. Use "charm pricing"
Charm pricing is just a psychological pricing strategy that affects the customer's perspective on the price. It's simply ending the prices with .99$, .95$ or .90$ instead of a round number.
Try it yourself. Price your product at 59.99$ instead of 60$. This strategy works especially good when it's used for products that are relatively cheap and easy to buy in the heat of the moment. On the other hand, there are luxury products that tend to end with .00$. If you sell expensive products this method may not work so well as people won't get attracted to the price so much.
7. Set a Business Price
Amazon allows retailers to register for a business buyer account. It's a great way for commercial customers to buy up the stock tax-free and save a lot of money.
It allows setting business prices for your products and it reaches Amazon Business-register buyers encouraging large orders with discounts and specially made offers.
8. Provide discounts using coupons
Amazon's eye-catching, green coupon badge next to your listing is a great way to lure new clients to your recent listing. It can give a great boost to your click-through rate and directly affect your conversions.
If you want to get even more from this feature, raise the price slightly, then add the coupon to the product. Your customers will still feel like they're getting a great deal and you won't have to cut the price. Win-win situation, right?
Tools for monitoring prices on Amazon
Now you know how to price your products on Amazon, so let's dig even deeper. Remember how we mentioned price monitoring before? If you do it manually, you will spend all your time on it, so using software instead makes much more sense.
Let's take a look at Amazon Price Monitoring Tools that fit the best for that purpose.
Dealavo
Dealavo is an outstanding software that has a twofold structure – it works great both for brands and e-shops. It's known for having a very wide range of features such as price promotion tracking, many integrations, banner monitoring, machine learning component and many more.
Dealavo takes care of almost 700k product offers and provides its services all around the world. Their vast experience finds its reflection in very high customer satisfaction. Dealavo is definitely one of the best performing price tracking software when it comes to feature range, accessibility and the ease-of-use.
If you want to learn more about Dealavo, you can find it here and here.
Keepa
Keepa is an Amazon Price Tracking platform for retailers, that allows them to track prices and delivers detailed information about products they want to sell on Amazon. It gathers all the data about given items and presents it in terms of price, rank, category and customer rating. Keepa is divided into three sections: Keepa Deals, Data and Track.
Keepa Deals allows researching Amazon's database to uncover items listed at discount prices as well as their historical prices, average prices and many more. It also helps with filtering them by price range, minimum rating, drop range and so on. Keepa Data is focused mainly on researching products, as it offers tools such as product viewer, product finder, product best sellers, category tree and top seller list. Keepa Track helps track products' prices on Amazon, including convenient features like price alerts for products you are the most interested in.
You can learn more about Keepa here and here.
Earny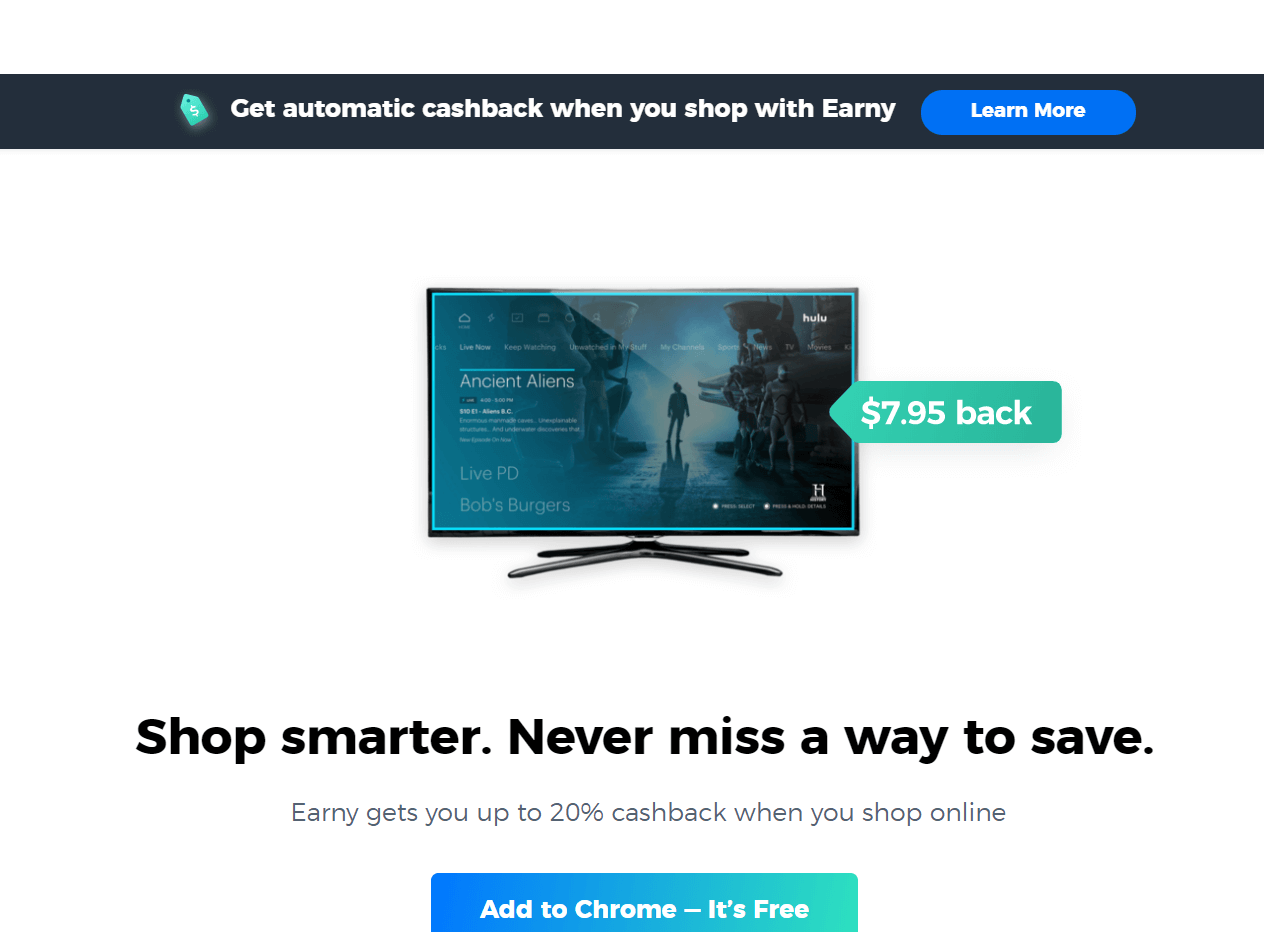 Earny is a price tracking tool that has many convenient features simplifying selling on Amazon. It's great both for retailers operating on Amazon, but it also helps monitor prices on other online stores. One thing that distinguishes Earny from other software is that it's very cheap. It costs only 4.99$ per month or 39.96$ per year.
One Earny's key features that definitely stands out from the other tools is that it allows you to get cashback on items you've already purchased if their price goes down. Isn't it cool? Moreover, Earny scans your emails in search of previously-bought products so you can track their price and set price drop alerts on items that you're interested in.
You can try Earny yourself here.
Waatcher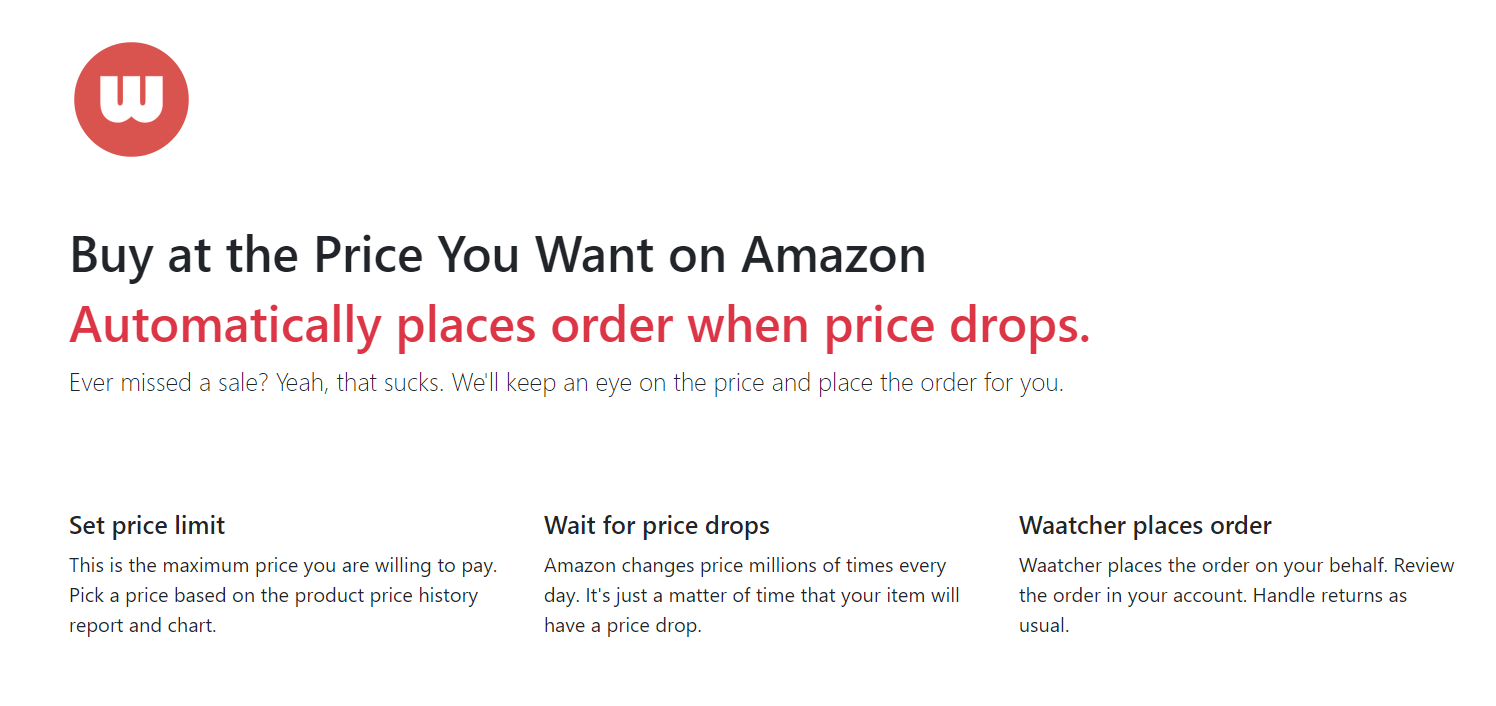 Waatcher is a tool focused mainly on orders as its main goal is to help out retailers and place orders on their behalf whenever a product's price drops. What does it mean? Waatcher will automatically place an order for you whenever it sees that your maximum price has been reached.
The tool also allows you to set price limits and it alerts you when the price of products you are interested in goes down. It's definitely one of the tools that are very clear, easy to set up and intuitive.
Learn more about Waatcher here.
CamelCamelCamel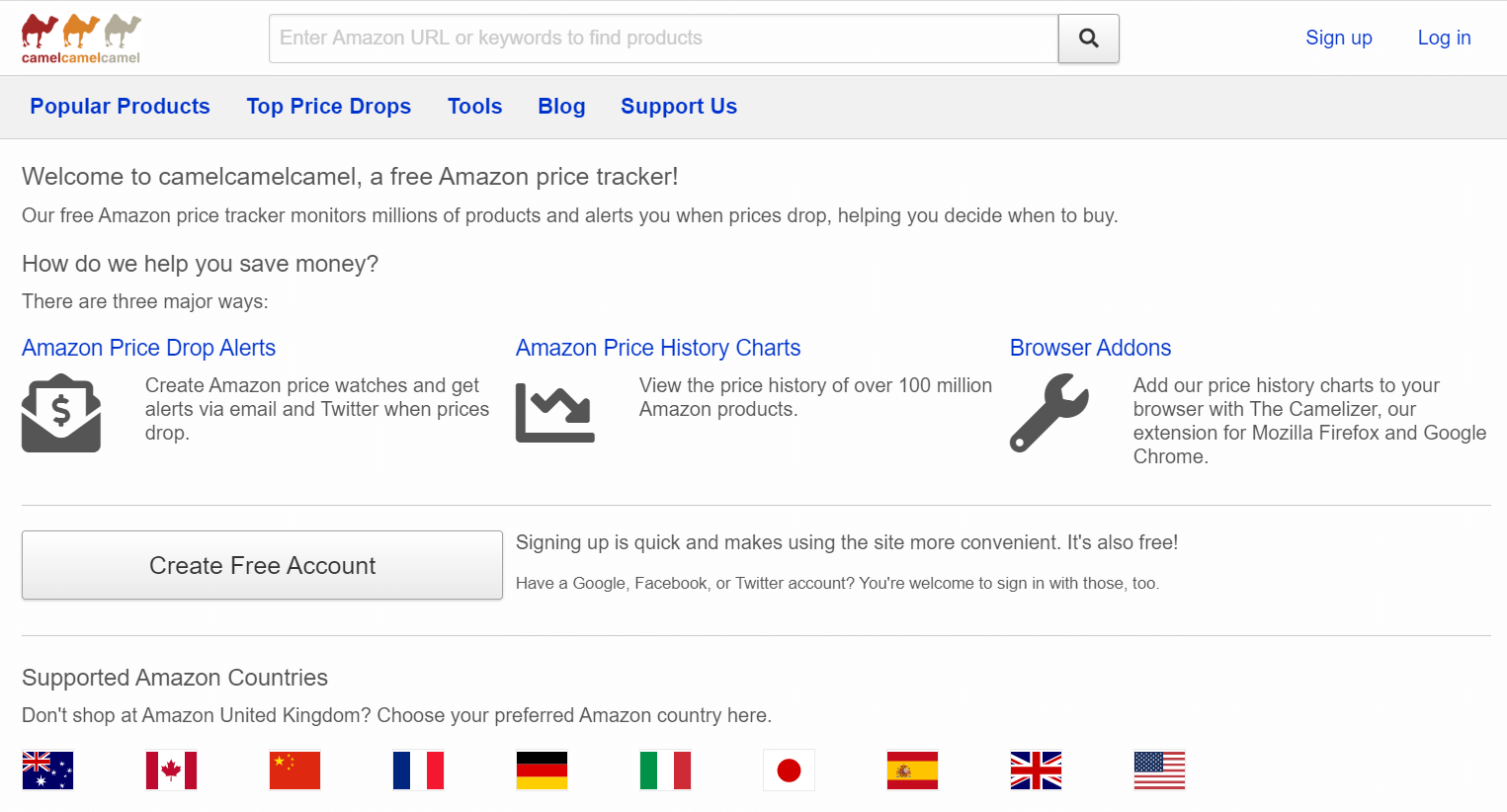 CamelCamelCamel is one of the best-known price monitoring tools that work magic at notifying you about the best possible price for a given product that you're interested in. Do you know what's also great about CamelCamelCamel? It's totally free. Yes, you heard it right.
It's Chrome and Firefox extension that helps access the features while not leaving the site. Although Camel's site may be a little clunky for some people, that's the only downside of the software. CamelCamelCamel provides a very wide range of features including price drop alerts, price history charts and deep insights into the product's historical pricing fluctuations. You can use CamelCamelCamel anonymously via RRS feed or register to get e-mail alerts.
You can learn more about CamelCamelCamel on g2 or on their official website.
Flipshope
Flipshope is a price tracking extension. It's India's one of the most trusted e-commerce platforms that can help you efficiently monitor competition prices and get desired products when their price drops.
Flipshope Extension offers a wide range of great features. Price drop alert, which notifies you whenever there is a drop in the price, auto-buy purchases products on your behalf, price tracker delivers historical prices of a given product and auto-apply coupon lays out the best coupons available for you.
Learn more about Flipshope on their website.
Competera
Competera offers a wide range of features including competitive data pricing automation and a combination of AI and Machine Learning component. It's great for increasing customer trust by developing and maintaining an optimal pricing strategy in real-time for all kinds of retailers.
The only downside of Competera would be the lack of in-depth statistics on the delivered data. If it's not a big deal for you, you should definitely try this software.
Learn more about Competera on g2, capterra or on their website.
Summary
If you operate on Amazon you probably already know that there are always things you can improve and save up on. No matter how big your assortment is or how many sales you make, you should start looking for Amazon Price Tracker as soon as possible and outperform your competition. If you're looking for the best tool for it, you should definitely try out Dealavo and watch the magic happen. With its help, you will control your Amazon business like never before, and the chances of you becoming successful on the platform will skyrocket in the nick of time.