Facebook Ads for e-commerce: Effective advertising on Facebook
The decision to start advertising your e-commerce business via Facebook Ads can be a huge milestone in your store's development. Thanks to a mind-boggling reach and vast ad personalization options, you can reach precisely the customers you want. How can you do that?
When you analyze the marketing offer of Mark Zuckerberg's platform, you will quickly see it's a real mother lode for potential customers, regardless of where you operate and what you sell. Almost any online store can use the Facebook Ads' potential to:
Acquire new customers
Retain current ones
Apply retargeting and reach lookalike audiences
Today, Facebook has over 2.89 billion MAUs (monthly active users):
image source: https://www.statista.com/statistics/264810/number-of-monthly-active-facebook-users-worldwide/
In this group, you can find people from every country, community, profession, and hobby. Facebook perfectly realizes the marketing value of that data, so they diligently gather and analyze them. Primarily in order to make money through Facebook Ads.
Facebook Ads: Advertise your business on FB
There are three elements that constitute the Facebook Ads offer:
Facebook Business Suite (a dashboard that enables you to manage your ads and campaigns)
Facebook Pixel (it's used to connect your store with your FB account, which allows you to measure conversions more accurately and use additional forms of promotion, e.g., retargeting)
Several ad formats for you to choose from
Now, when it comes to ad formats, you're spoiled for choice! Facebook offers 8 basic forms of advertising:
Photo ads
Video ads
Stories ads (short videos/sets of photos that tell a specific story)
Messenger ads (did you know that today, over 1.3 billion people use Messenger?)
Carousel ads (use them to show several pics/offers within one ad)
Slideshow ads (they are related to video ads, but these ones are based on an animation)
Collection ads (e-commerce businesses use them to showcase products in their offer)
Playable ads
As an e-commerce business owner, you can use each one of these formats, but you surely should focus on collection, carousel, and Messenger ads. These three formats have been made with e-commerce in mind. For instance, see how you can use Messenger ads to promote your products:
This ad contains a product picture, its name, and price. There's even a possibility to place an order directly via Messenger. The customer also has the opportunity to ask additional questions or browse through similar products.
TARGETING FACEBOOK ADS
Since Facebook knows pretty much everything about their users, there are vast targeting options available. According to BlueCorona.com, there are over1,300 of them[1]! Users can adjust a lot of parameters and characteristics describing their perfect customer. There are tons of options within such categories as a profession, education, interests, sports, age, location, recent events in life, and several others.
This way, you can easily showcase your offer to snowboarders or parents-to-be. Or maybe you sell French vines? It's a breeze; there are thousands of people who have recently visited France! And here's another example: If you sell running shoes and accessories, you can quickly reach joggers. There are tens of thousands of them!
HOW MUCH DO FACEBOOK ADS COST?
There is no simple answer to this question. It all depends on many factors, i.a., your target group, products you offer, the ad format you choose, and the intensity of your campaigns. The WebFX agency has analyzed data from the AdEspresso app (it's an app facilitating managing ads on Facebook), and here are their findings[2]:
| | |
| --- | --- |
| CPC: cost-per-click | 0,97 USD |
| CPM: cost-per-mille (1,000 impressions) | 7,19 USD |
| CPL: cost-per-like | 1,07 USD |
| CPA: cost-per-action (e.g., one download) | 5,47 USD |
Your results can be noticeably different, though. Facebook Ads are based on the assumption that you indicate your marketing budget and the platform tries to get the best results within it. In theory, you can spend just 1 USD daily on Facebook Ads. Here, you will find more information on different bid strategies.
How to create an effective campaign on Facebook
If you've never worked with a Facebook Ads Manager, you'll need thorough research or professional help. In theory, the manager guides you step by step through every stage of creating and optimizing your campaign, but if that's your first time, you won't be able to get the best possible results.
If you operate in the e-commerce sector, think about using the following techniques and solutions to enhance your ads:
Install Facebook Pixel and opt for retargeting
Facebook Pixel is just a short piece of code you have to place on your website. Thanks to it, Facebook can measure the efficiency of your campaigns (e.g., conversions) and give you access to more advanced tools (e.g., retargeting). And bear in mind that retargeting is a must-have e-commerce strategy. It allows you to rescue large parts of abandoned carts. We talk about that a lot in our post about 5 best promotion strategies for e-commerce. And here, you will find out more about creating and installing the Pixel.
Use carousel and collection ads
These formats are just perfect for your online store. See how they can look: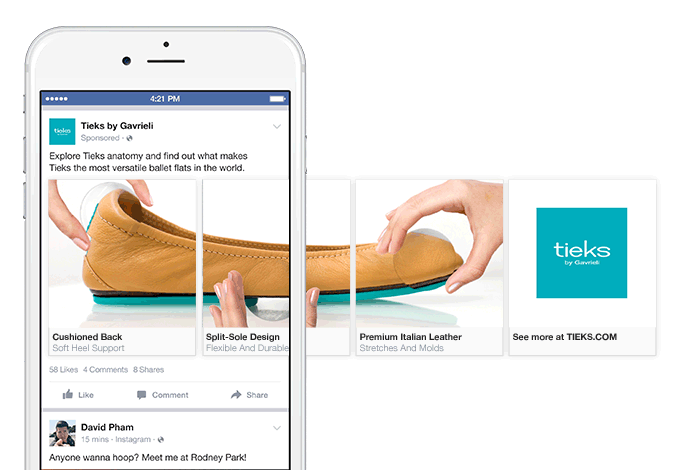 source: https://www.affde.com/pl/facebook-carousel-ads.html
And here's another example:
image source: https://techcrunch.com/2017/03/23/facebook-collections-2/
Reach lookalike audiences
Facebook enables you to reach potential customers with a profile and characteristics similar to your current customers. If you run an e-commerce business, it's a never-ending source of new leads!
For some time now, Facebook has been providing their business users with the new service – Facebook Shops. With it, you can easily showcase your products on Facebook along with their prices and descriptions. Moreover, you can categorize products into separate collections so that they can be easily found. Merging your Facebook Shop with an effectively working Facebook Ads account is a recipe for success on Facebook.
And, of course, don't forget about elements that are ALWAYS important, namely:
High-quality pictures
Well-described products
These three elements will constitute a vital help in creating efficient Facebook Ads campaigns! And if you need support with managing prices in your store – we're here for you! See our offer for the e-commerce sector.
[1] https://www.bluecorona.com/blog/types-of-facebook-ads/
[2] https://www.webfx.com/social-media/how-much-does-facebook-advertising-cost.html